Ebersplice (Asia) belongs to Thai company and located in Klongluang, Pathumthani. Ebersplice is to produce an especially designed connection system for concrete reinforcing bars.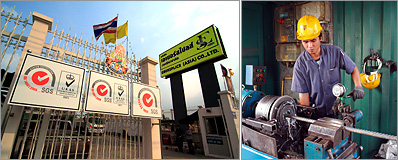 Ebersplice special system is a Soft cold forge. Its procedure permits to prevent most cracking and fissuring on the rebar extremities while upsetting.
The Ebersplice technicial staffs, permanently work on the system improvement in considering requests and suggestions of its customers, combined with innovative research result. Besides our team not only try to improve our service but also in our technical of product.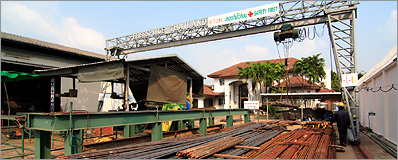 Nowadays, Ebersplice intend to provide affordable rebar connecting technology for your company. Adapted to your very own specific requtrements, Ebesplice will provide the solution to make your business more efficient and compettitive. We always try to improve and develop a new technical to bring more efficiency in soft cold forge process and to make sure we intend to provide better and stable quality produce with reasonable price.
Ebersplice most prominent are:
1. High quality product
2. Flexibility and know how
3. Fair play business conception and policy
4. Customer focuses service

Contact today EBERSPLICE's Sales and Customer Department for further information concerning diversity, compatibility and adaptability of our EBERSPLICE coupling technology, to your company and your projects.